Casa Cielo, Costa Rica:
Mountain Home in the Sky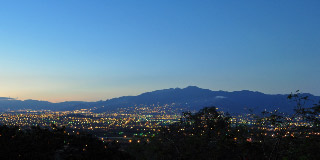 In the mountains of the Central Valley, Costa Rica - This "Home in the Sky" in the town of Santa Barbara de Heredia includes a modern, spacious, light and airy master suite for two with king bed and full bath. WiFi is also available. There's an outdoor deck with jungle view - and a swimming pool. Casa Cielo's furniture is custom-made by Costa Rica's finest woodworkers. The walls are decorated with native crafts.
Casa Cielo is located near Heredia and San Jose, 4,000 feet above sea level with a fabulous 50-mile view that includes Costa Rica's four largest cities, including San Jose, Costa Rica's capital. It's 25 minutes from the SJO airport. Temperatures are consistently refreshing year-round: 75-85F daytime and 60-68F at night. Read below for 25 great day trips - including nearby Pacific and Caribbean beaches.
---
Casa Cielo's guest suite was previously offered as a B&B, and this webpage advertised it.
It is currently reserved exclusively for our family and friends - gratis. Just let us know when you'd like to visit!
---
Casa Cielo (see Save the Americans) has one guest suite. It's part of a tropical chalet-style home and working farm in Costa Rica's cool Central Valley mountains.
Located 25 minutes from Costa Rica's San Jose (SJO) Airport in a distinctly tropical setting, Casa Cielo's views of the Costa Rica mountains and its Central Valley are unmatched. The 2.5-acre mountainside "finca" (small farm) is beautifully landscaped and is criss-crossed by walking trails. Casa Cielo includes a 16' x 39' swimming pool, herb and vegetable gardens, fruit trees, beautiful ornamentals - and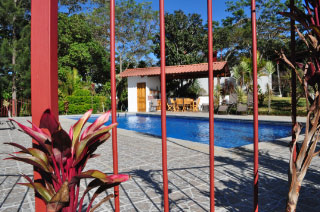 a pool-side view that includes two volcanoes, nearly all of the Central Valley, the national soccer stadium, and occasional fireworks displays. Across the road is a coffee farm.
---
Casa Cielo: Heaven's Home, or Home in the Sky
---
It's an easy one-mile downhill walk to the small town of Santa Barbara - where you'll find friendly, helpful people and nearly everything you need: groceries, restaurants, bakeries, pharmacies, office supplies, clothing and shoes, the central park and Catholic Church, medical clinic, and Saturday's farmers' market (the "feria"). The uphill return trip from the feria to Casa Cielo with a large load of bargain-priced fresh fruit and vegetables makes the $3 taxi fare a tempting alternative to the climb.
From Casa Cielo, there's easy access by taxi, car, or chauffeured "turismo" van to active and dormant volcanoes, national parks, stunning waterfalls, a rescue zoo, butterfly farms, orchid garden, coffee plantations, and and Costa Rica's capital San Jose. See our sightseeing and rental car advice, below.
This is the real Costa Rica, the green ecotourism destination you've heard about - check out the day trips described below! And if you want to enjoy popular Pacific Ocean beaches, they're less than two hours away. We can tell you the very best sources for whatever you need in Santa Barbara or nearby. Our gardener will help fill your table with some of Casa Cielo's fresh bananas, plantains, lemons, oranges, herbs, lettuce, and more - whatever's in season.
San Jose's airport (SJO) is 25 minutes southwest. San Jose itself is 45 minutes southeast. Within two hours from Casa Cielo, you can choose from more than two dozen day trips that sample the full range of Costa Rica's ecotourism attractions. Further afield, the Caribbean (starring funky Puerto Viejo) is a 3-4 hour drive southeast. The deservedly-popular Arenal Volcano and the Monteverde Cloud Forest are 3-4 hours northwest.
Our guest suite is ideal for those looking for something unique that's off Costa Rica's beaten path. For more ideas after you read this webpage, get this book from your favorite library - or buy it from Amazon: Costa Rica: The Complete Guide: Ecotourism in Costa Rica.
---
"Plan the honeymoon of your dreams, and make it come true at Casa Cielo." - A visiting friend, 2012.
Casa Cielo welcomes all to enjoy the beauty of Costa Rica's mountains - honeymooners at heart if not in fact.
---
Rates, Amenities & Reservations
Rates:
Casa Cielo's guest suite was previously offered as a B&B, and this webpage advertised it. It is currently reserved exclusively for our family and friends. Let us know when you'd like to visit! We continue to maintain this webpage for our visitors.
Occupancy: Occupancy is strictly limited to two guests in the king bed.
Airport: An airport taxi is about $20 to Casa Cielo (orange taxi), $10 returning to the airport (red taxi).
Amenities Summary: You'll enjoy the modern master suite with king bed, full bath with hot-water tub and shower, private outdoor deck with table to enjoy your morning coffee, and walking sticks for the trails.You'll also find a shelf full of books about travel and wildlife in Costa Rica. Outside you'll enjoy walking trails, productive herb and vegetable gardens, beautiful flowers, ornamental plants and fruit trees, and a coolwater swimming pool.
Car Rentals/Taxis/Buses: Taxis and buses are accessible and cost-effective if you don't rent a car. We recommend that you rent a 4WD SUV in advance if you want to see Costa Rica's very best sights. For suggestions, see Getting Around / Maps.
Bienvenidos (Welcome) to Santa Barbara de Heredia
A Delightful Small Town
Santa Barbara (see the map at getting around) is a small, rural, typical, friendly town in Heredia near its border with Alajuela, two of Costa Rica's seven provinces. It's located in Costa Rica's mountains in the cool "Central Valley," a very large plateau in the center of the country that's home to half of its 4,500,000 residents. As in most of Costa Rica, there are no street addresses here, and no residential postal delivery. A local supermarket's address might be "50 metros este de la Iglesia Catholica" or "50 meters east of the Catholic Church." The phrase "100 meters" means one block, which can actually be somewhat more or less than 100 meters.
Unless you are among the few Santa Barbara residents with a post office box, you have probably never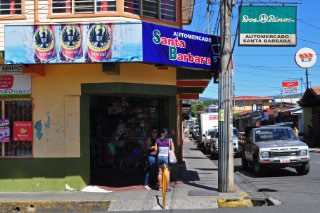 received a bill by mail. Residents pay their bills in cash, by Internet bank transfer, or at the local supermarket. If you don't pay your monthly electric bill or phone bill on time, your service is eventually cut off. Each month, you check online or at the supermarket to find out how much you owe.
Nearly every Costa Rican town has a "parque central" - central park - with a Catholic Church on its east side (facing west), plus a bus stop and an army of taxi drivers awaiting your orders. Santa Barbara is no exception. The central park is surrounded by stores, and by a few entrepreneurs selling fruits and vegetables from their cars or trucks on the street. The central park is the center of life in Santa Barbara. Teenagers hold hands (and a few smoke pot) in the park, adults crisscross it to reach the stores, and occasionally there's a concert in its central pavilion.
The stores and other buildings surrounding Santa Barbara's park and the next block or two in each direction offer nearly everything you would expect. Aside from the municipal building and elementary school, you'll find banks with ATMs, a doctor and dentist, freshly baked breads and pastries, groceries, clothing and shoes, office supplies, appliances and electronics, hardware, a hair stylist and barber, $1 (pirated) movie rentals, fast food, and inexpensive sit-down restaurants called "sodas" that serve a typical Costa Rican mid-day dinner for about $5. If you're driving, you can usually find a free parking space very close to the central park.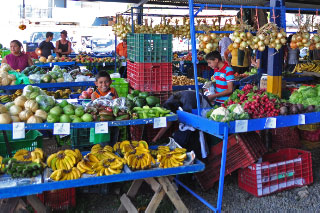 Every Saturday morning - except for frequent religious and secular holidays - a farmer's market or "feria" offers fresh fruits and vegetables at bargain prices. Nearly every town has its own feria; some cover several blocks while others cover less than one. In Santa Barbara's feria, you can find bananas for four cents each, the best strawberries you'll ever eat for $2/pound, potatoes or tomatoes for 25-50 cents/pound, plus a dozen fruits and vegetables that you've never seen before. You could live on a healthy diet of fresh fruits, vegetables, beans, and rice - as many Costa Ricans do - for less than $3/day.
From Casa Cielo, Santa Barbara's parque central is a 15-minute walk down our rough gravel road, or a 5-minute taxi ride ($3) on paved but narrow residential streets. If you plan to walk, bring athletic shoes that are suitable for safe use on loose gravel. Flip-flops or casual shoes are useless.
Onsite and Walking Distance Highlights:
Casa Cielo and Santa Barbara de Heredia
These nearby sights and services are arranged roughly in order of their distance from Casa Cielo. Also check our Day Trips section below, featuring sights that are a 15-90 minute drive!
Bird Watching: Casa Cielo will delight you if you want to see a few of Costa Rica's nearly 900 species of birds. Just open your window to hear them and step outside on your deck to see them, starting at sunrise. Frequent visitors include colorful motmots and oropendolas, noisy parrots (called parakeets here), flycatchers, swifts, clay robins - the national bird, several of Costa Rica's 58 species of hummingbirds, and more. Every elevation in Costa Rica reveals different bird species, so be sure to take your camera wherever you go. We have a comprehensive Costa Rican bird book to help you identify them.
Exercise: Casa Cielo's walking trails start at the edge of your outdoor deck; it takes moderate effort to complete the one-kilometer circuit. Inside there's an elliptical exerciser. The swimming pool is a short walk from your master suite. The one-mile downhill walk to the center of Santa Barbara is easy, aside from negotiating the loose gravel. The more-difficult return trip includes a 170-foot rise in elevation.
Ethno Botanical Garden: Casa Cielo's next-door neighbor is The Ark Herb Farm. In this botanical garden, our friend Tommy Thomas has amassed one of the largest collections of herbs, plants, and flowers in Central America. It is a focal point for doctors, herbalists, botanists, tourists and all the plant lovers in Costa Rica - and hosts one of the country's best collections of medicinal plants. A restaurant and a "meadery" (water + honey + yeast = sweet beer or wine called mead) are under development. It's a 3 minute walk from Casa Cielo. Tours can be arranged.
Healthcare: Costa Rica has a national healthcare system that is universal and effective. Life expectancy here is about the same as it is the USA. There is a local medical clinic in Santa Barbara, part of Costa Rica's "Caja" or national healthcare system, that can handle most medical emergencies. It's a 5-minute drive from Casa Cielo. A new $85 million-dollar hospital, 20 minutes away in nearby Heredia, handles major trauma - and delivered Max, son of your hosts. Costa Rica's abundant pharmacies each have a doctor on staff who can diagnose simple ailments on the spot, determine what you need at no cost, and sell it to you. Only narcotics and antibiotics require a prescription. If you need more complex non-emergency care, there is a private clinic in Heredia that will see you for $30 - and prescribe whatever you need. The cost of high-quality private dental and medical care is 40%-75% less than the USA. Costa Rica's best private hospital is 30-minutes taxi ride; its services are equivalent in quality to the USA - and waits are short. We've had emergency same-day laser eye surgery for $900 - and full tests/treatment for bronchial pneumonia for $600. Costa Rica is now a destination for elective dental tourism; dental caps, for example, cost about $400.
Amusements: Aside from an occasional concert in the central park, and some bars in downtown Santa Barbara, you won't find many amusements nearby. But nearby, you'll find many sights to keep you busy between the 5:30 AM sunrises and 5:30 PM sunsets. We're just 10 degrees north of the equator, so we get 11.5 to 12.5 hours of daylight year-round to complement our pleasant temperatures, also year-round. At Casa Cielo, it's "early to bed, early to rise." We're often in bed by 9PM, give or take an hour.
Churches: A Catholic Church is located a few minutes away in Santa Barbara's central park. Services are offered only in Spanish. If you wish to attend a Protestant church or Jewish Synagogue or a Catholic Church where English is spoken, you can drive 30-60 minutes to Escazu or San Jose. Try searching online for "costa rica baptist church english" or something similar.
Learning Spanish: It helps to know some Spanish when you travel around Costa Rica. Our staff speak Spanish fluently, and they can speak Spanish with you exclusively if you wish - that's called "immersion." If you prefer formal instruction, you can take a $.75 25-minute bus ride to Heredia, the capital of Heredia province, where the excellent Intercultura Language School and Cultural Center provides private instruction for $25/hour, or 20 hours of group instruction in five days for $275.
Restaurants and Sodas
Looking for restaurants - or inexpensive "sodas" - in Santa Barbara? You'll find friendly sit-down restaurants, plus a few that serve "fast food." Many are closed on holidays; call to confirm hours.
Santa Barbara Restaurants
Restaurants are listed alphabetically; those with $$$$ are most expensive. Some will deliver to Casa Cielo for about $2.
Nearby Fine and Gourmet Restaurants
Restaurants are listed alphabetically; those with $$$$ are most expensive:
Day Trips
You'll need a taxi or car and 15 minutes to two hours to reach these destinations. The sun sets here at 5:30-6:00PM, so we recommend that you rise and shine early in the morning. Also check our Overnight Trips section below! These popular sights are arranged in order of their estimated drive time from Casa Cielo. Entrance fees apply to most sights, most were last checked by us in 2012. Most attractions are closed at least one day per week; check websites or call for current rates and hours.
Listed nearest to farthest...
Coffee Plantation Tour: Organic coffee is the specialty at Finca Rosa Blanca, which is also home to the gourmet El Tigre Vestido Restaurant (above). Combine their two-hour tasting tour with lunch. $Call 2269-9392; reservations are required. 10 minutes by taxi from Casa Cielo.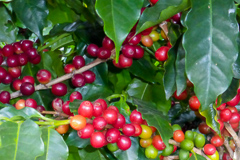 Coffee Plantation Tour: Coffee is practically a religion here, and Cafe Britt is Costa Rica's best-known export coffee. The Cafe Britt Coffee Lovers Tour is a half-day theatrical show and luncheon that you won't forget. $49. 15 minutes from Casa Cielo.
Unguided Walking Tour of a Typical City: Nearby Alajuela is the second largest city in Costa Rica, and it's far easier to negotiate than San Jose. You can get an excellent sense of "typical Costa Rica" by randomly walking the city's center for 3-4 hours, preferably starting around 10AM. Stop often to enjoy the parks, cathedrals, street vendors, fruit and produce stands, small stores, impromptu entertainers, Juan Santamaria Historical Museum, and more. A huge farmers' market ("feria") opens early every Saturday, and might be a good ending point. Pause for 30 minutes on a park bench to watch others doing the same. Skip the McDonalds and stop at one of the small typical restaurants (called "sodas") for a $5 lunch. If you go by taxi, you won't need to pay for parking - or find your car when you finish. 20 minutes by taxi ($10 each way) from Casa Cielo. Ask Erin or Fabian for written directions (in Spanish) back to Casa Cielo, to show to your taxi driver.
Macaws: The ARA Project is a licensed zoological park and non-profit organization dedicated to the conservation of Costa Rica's critically-endangered Great Green Macaw and the endangered Scarlet Macaw. The ARA Project operates a breeding program and reintroduction projects. You can tour the project facilities and see these stunning Costa Rica native birds by appointment only, daily at 9AM. Call 8662-2663 or 8730-0890. The one-hour tour is $10 for children, $15 for adults. 20 minutes from Casa Cielo, in Rio Segundo.
Volcano - Dormant: The nearest inactive volcano is Barva, the biggest volcanic mass in Central America, in the Braulio Carrillo National Park. Barva Volcano is 9,700 feet above sea level - more than a mile higher in elevation than Casa Cielo, so be sure to take a jacket. You should also take umbrellas, plus food and plenty of water. $8. 25 minutes from Casa Cielo, plus a three-hour hike each way if you want to reach the lagoon at the summit.
Golf: The Cariari Country Club offers a George Fazio designed course. $60-$100. 25 minutes from Casa Cielo.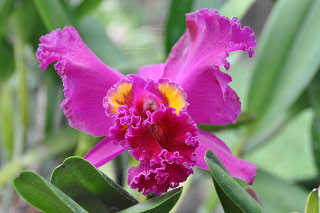 Rescue Zoo: In Costa Rica, it's illegal to keep most wild animals and birds as pets. The non-profit Zoo Ave Wildlife Rescue Center rehabilitates injured birds and animals, and provides a permanent home to those that have been confiscated from private citizens. It takes 2-3 hours to see the rare macaws and other birds, jaguarundis and other big cats, iguanas, turtles, Costa Rica's five types of monkeys, kinkajous, coatimundis, and more. (Ave is pronounced "ah'vay" and it means bird.) $15. 25 minutes from Casa Cielo, near the Botanical Orchid Garden.
Chocolate Tour: The chocolate tour starts with an introduction to the cacao tree and its fruit, explains the process of harvesting and processing, then ends with chocolate-making (and eating). It's a delicious experience that takes about 2 hours. $25. Go hungry! 30 minutes from Casa Cielo, in La Garita, Alajuela (near Zoo Ave).
Toucans: The privately run Toucan Rescue Ranch focuses on the care, rehabilitation and study of all five species of Costa Rican Toucans. They receive confiscated, sick, and injured birds, give them a loving home, and when possible rehabilitate and return them to the wild. You can "adopt a toucan" to help with its care. $Donation. 30 minutes from Casa Cielo, in San Isidro de Heredia.
Zip Line - Volcano: Canopy Adventure Volcan Barva is a "thrilling zip line through the tree tops, at the foot of the Barva Volcano." The canopy tour has 13 platforms and 8 cables suspended around gigantic oak trees. Under age 8: $35. Others: $42. Transportation from Casa Cielo is extra; call 2266-0782. 30 minutes from Casa Cielo, near San Jose de la Montaña, Heredia.
Introduction to Costa Rica: INBioparque is a one-stop introduction to all of Costa Rica, offering an interactive experience through its ecological park. The park aims to bring you into closer contact with Costa Rica's natural resources. Guided tour: $23. 30 minutes from Casa Cielo.
Orchids: The Botanical Orchid Garden in nearby Alajuela hosts flora and fauna that are typical of the tropical dry forest, including some of Costa Rica's 1,300+ varieties of orchids. The orchid flowers range from tiny to very large, and they're beautiful. You'll likely be met at the gate by an endangered scarlet macaw. Try a fresh fruit drink with milk ("refresco con leche") at the onsite restaurant. $12. 30 minutes from Casa Cielo; can be combined with a visit to the nearby wildlife rescue "Zoo Ave."
Coffee Plantation Tour: The coffee from Doka Estate is one of our favorites. Doka Estate is located on the slopes of the Poas Volcano, so you can combine a visit to Poas Volcano or La Paz Waterfall Gardens (morning) with a Doka Estate tour (afternoon). Some tours include breakfast or lunch. $Call. 30 minutes from Casa Cielo.
Waterfalls & Wildlife: In Costa Rica's steep mountains, waterfalls are abundant. Some of the most spectacular cascades flow near Casa Cielo. La Paz Waterfall Gardens includes five waterfalls, butterflies, beautiful gardens and hundreds of animals - including monkeys, big cats, snakes, hummingbirds, toucans that will walk on your arms, and poison dart frogs. You can combine a trip to Poas Volcano (morning) and La Paz Waterfall Gardens (afternoon). $40, and worth it. 35 minutes from Casa Cielo, plus a moderate 2-hour hike if you choose to see all the waterfalls.
Volcano - Active: Currently closed (2018) due to unusually intense volcanic activity, the nearest active volcano is Poas, in the Poas Volcano National Park. At 8,900 feet above sea level, Poas Volcano is nearly a mile higher in elevation than Casa Cielo. It gets cold there, so take a jacket. You should also take umbrellas - or buy ponchos when you arrive there. The fog usually lifts magically from the crater lake between 11AM and 2PM, so try to be there during those hours. $10. 40 minutes from Casa Cielo, plus an easy 10-minute walk to the crater. If the volcano is especially active, the park will be closed.
San Jose: There are several sights that we recommend you see in San Jose. Driving to San Jose can be a confusing and harrowing experience for the uninitiated, so we suggest that you take the bus ($2 including a bus change) or a taxi ($25, 45 minutes) from Santa Barbara's Central Park. Once you reach the center of San Jose, we recommend:
the Paseo de los Museos - three museums in one tour - which includes the Gold Museum (Museo de Oro), the National Museum (Museo National de Costa Rica), and the Jade Museum (Museo de Jade),
the artisans' market for souvenirs (see below),
the new Chinatown,
and for children and their parents, the excellent Childrens' Museum (Museo de los Niños, $3).
Souvenirs: For the best prices and selection of Costa Rican souvenirs, go to the Plaza de la Democracia in downtown San Jose, adjoining the National Museum. There, you will find several dozen vendors in a covered outdoor artisans' market offering Costa Rican and Central American crafts for sale. Everything is negotiable, with discounts of 10%-30% possible on $50+ purchases from a single vendor - if you pay in cash. Nearly all of the vendors speak some English. We recommend that you first walk the straight line past all of the vendors' stalls without buying anything - to see what's available. On your return pass, buy what you like. We especially like the wide variety of souvenirs made of a combination of five popular Costa Rican woods, including legally-farmed coco bolo (rosewood) and purple heart. There are some fine bargains here even if you pay full price, and they're guaranteed to please your family and friends. Most of the vendors are friendly and polite, even when you politely say "no, gracias." Outside of commuting hours, it's 45-50 minutes from Casa Cielo.
Fine Furniture Tour: Casa Cielo is furnished almost exclusively with custom-made furniture ("muebles") crafted in the beautiful, sustainable hardwoods "guanacaste" and "cenizero." It was all made in the nearby town of Sarchi, where you'll find more than two dozen stores featuring Costa Rica's finest furniture. If you enjoy the wood and leather rocker or the clothes tree in your master suite, you can buy either in Sarchi for about $150. $FREE. Sarchi's stores cover more than a mile of the road, and start 50 minutes from Casa Cielo. On the way, stop to see the beautiful, unusual church in Grecia; its walls are made of metal.
Botanical Garden: The 17-acre Else Kientzler Botanical Garden is an enjoyable half-day walking tour that includes 11 gardens with 2000+ plant species from around the world. There's a hibiscus maze that's perfect for kids, and a picnic area. Combine this with the "fine furniture tour" of Sarchi, or the topiary gardens at Zarcero. $13 for adults. 55 minutes from Casa Cielo.
Topiary Garden: CostaRica.com says of the extraordinary topiary gardens at Zarcero: "Wavy arches carved from conifer cypress invite visitors to explore artist-landscaper Evangelisto Blanco's latest inventions. Shrubs and trees manifest as dancing animals, stylized creatures and other unique abstractions." Expect mist until Noon; take the loaner umbrellas from your master suite at Casa Cielo. There's also a nearby cheese factory, waterfall, and Juan Castro Blanco National Park, so you can make a full day of it. The topiary is free to visit, although donations are appreciated by the artist (we suggest $5/person). 55 minutes from Casa Cielo.
Braulio Carrillo National Park: A rainforest, waterfalls, aerial tram, zip lines, jungle near sea level and cloud forest at 9,500 feet all await you at Costa Rica's second largest parque nacional, Braulio Carrillo National Park. For a full day of activities, check out the "eco-pass" (listed in the "attractions" section) at Rainforest Adventures. $10 for park admission, or $99 for an eco-pass. It's 60 minutes from Casa Cielo to the park entrance; the aerial rainforest tram and zip lines take another 15 minutes to reach.
Lankester Botanical Gardens: You'll find a stunning 800 varieties of beautiful orchids at Lankester Botanical Gardens. $5. 60-75 minutes from Casa Cielo. Can be combined with Irazu Volcano, as an overnight trip.
Zip Line - River: The Canopy San Luis tour "will take you on an exhilarating and safe adventure through lush, green canopy and across the majestic Rio Cataratitas." $65 includes lunch. 60-75 minutes from Casa Cielo, west of San Ramon.
Zip Line - Wet Forest with Horseback Ride: Aventuras la Carpintera With 19 platforms, more than one mile of cable, hiking, and two rappels, this canopy tour features a wet forest. $75 includes training, horseback ride and snack. Bring your long pants, mountain hiking shoes, bug repellent and sun block. 75 minutes from Casa Cielo, at San Diego de Tros Rios, east of San Jose.
Crocodiles & Birding: The easily accessible Carara National Park is famous for its many crocodiles that you can view safely from a bridge on the road - and for excellent birding. If you take a zoom camera, you may be able to photograph a colorful butterfly on a crocodile's nose. $10 if you enter the park; crocodile viewing from the bridge is free. 80 minutes from Casa Cielo, on the way to the beach at Jaco. Observe the enforced speed limit when you drive through the park.
Heliconias & Birds: Heliconia Island displays 80 varieties of heliconia, flowers, plants, and trees. It also attracts more than 200 species of birds, monkeys, otters, and more. $12-$18. It's 90 minutes from Casa Cielo.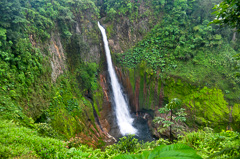 300-foot Waterfall: If you enjoy waterfalls, Catarata Del Toro is Costa Rica's highest and (arguably) most impressive waterfall. You can enjoy its restaurant with hummingbirds, rappel ($50 with advance reservation), and walk trails to observe tropical birds, butterflies, and plants in the primary forest. The stunning waterfall cascades into an extinct volcanic crater. If you get an early start, you can combine this with a visit to Zarcero or Sarchi. Allow at least two or three hours here. $10 entrance fee for hiking; lunch is $12. It's 90 minutes from Casa Cielo.
Pacific Beaches: These nearby beaches are 90 minutes to two hours from Casa Cielo. The fastest route starts on a toll road (about $3 each way). But the older mountainous route with challenging switchbacks and many typical small towns is an enjoyable and more authenic alternative - if you have an extra hour or two. The older, more scenic route can burn up your brakes if you don't downshift frequently on the steep descent. On either route, a map or GPS helps!
Punta Arenas: Because of its close proximity to San Jose, its airport, and Costa Rica's Central Valley, Punta Arenas is a very popular beach destination for Costa Ricans and tourists alike. The gray-sand beach is relatively small, family-friendly, and and filled with vendors offering treats; try a "Churchill" if you can stand the calories!
Punta Leona: Located between Punta Arenas and Jaco, less-touristed Punta Leona hosts two beautiful white-sand beaches, endangered scarlet macaws, hiking trails, and two types of monkeys. It's a favorite for birdwatchers and nature lovers. Most visitors access it through its beach resort, which offers a day pass (with lunch and the use of other facilities) for about $40/person (2018).
Jaco: For most Central Valley tourists and residents, Jaco is Costa Rica's most popular beach destination. It offers long stretches of gray sand, surfing, and far more amenities than the others listed here. Restaurants range from fast food to pricey gourmet. It's nightlife is far more active and more "adult" than the others.
Overnight Trips
Overnight Trips
You'll need a car and 1-4 hours to reach these popular destinations. We recommend that you plan to spend at least one night at any of these, but it is possible to make a day trip of the closest ones. We can suggest hotels in whatever price range you prefer, plus private or semi-private transportation. These overnight trips are listed roughly in order of their distance from Casa Cielo. Entrance fees apply to most sights. Travel guides at Casa Cielo provide further details.
La Selva Biological Station: 1.0-1.5 hours from Casa Cielo. Great birding and nature walks.
White Water Rafting on the Sarapiqui River: 1-1.5 hours from Casa Cielo. Are you in shape?
Irazu Volcano: 1.5-2.0 hours from Casa Cielo. You must arrive very early in the morning to see the crater. If you leave Casa Cielo at 5:00 AM, you can make this a day trip. You can combine Irazu (early morning) with Lankester Gardens (late morning or afternoon; see day trips above).
Arenal Volcano: 2.5-3.0 hours from Casa Cielo. Costa Rica's most famous active volcano is currently smoking but not erupting. This is a must-see for many tourists, and there are hot springs nearby where you can soak for a few hours. The nearby river Rio Celeste* is a stunning aquamarine color and leads to a beautiful waterfall; plan a full day for the strenuous hike there and back, if you're in shape.
Monteverde Cloud Forest*: 3.5-4.0 hours from Casa Cielo. This extraordinarily beautiful and humbling destination requires a few miles of driving over some rough roads (or a "turismo"). After a day or two in Monteverde, it's possible to take a boat ride to the Arenal Volcano and back. You'll need at least a full day to do that. Don't miss the foot bridge, or the zip lines that are among Costa Rica's best.
Deep Sea Fishing at Quepos: 2.5-3.0 hours from Casa Cielo, just a few minutes before Manuel Antonio (below). Brian caught and released two 100-pound sailfish here, 35 miles off-shore on a 27-foot boat. Our Rasta first mate explained his "religious" views on women and other volatile topics when the three fishermen weren't reeling in sailfish. The boat ride out to sailfish territory was colder and wetter than we expected. Fuel costs are high, so a full-day at sea can set you back $800-$1200 plus tips, for 4-6 fishermen.
The must-see Manuel Antonio National Park*: 3-4 hours from Casa Cielo. You'll find beautiful beaches and relatively easy trails, but watch your food and belongings or the white-faced capuchin monkeys and raccoons will steal them.
Wind Surfing on Lake Arenal: 4 hours from Casa Cielo. December-March is the best time to go, when it's micro-climate is windy and cold.
Tortugero National Park (turtles): 4 hours from Casa Cielo, plus a two-hour boat ride to your lodge. There's no guarantee you will see a turtle laying eggs at night - or eggs hatching. If you do, you'll never forget it.
Pacific Beaches at Dominical or Uvita: 4-5 hours from Casa Cielo. Quieter and less crowded than Jaco and Puntarenas.
Caribbean Beaches at Cahuita, Puerto Viejo, and Manzanillo: 4-5 hours from Casa Cielo. Funky and fun!
*We strongly suggest that you pay for a government certified, official guide ($10-$20/person); you'll see far more wildlife with a trained guide than you'll see on your own, and you'll hike more safely. To be sure that you get an official guide at the most popular destinations, ask for a guide where you pay your entrance fee. Otherwise you may get a freelancer who's not as well trained.
Getting Around Costa Rica / Maps and Directions
Renting a Car in Costa Rica
A 2WD or 4WD mid-size SUV will cost you at least $60/day with the minimum required amount of insurance. We recommend that you check pricing at Fox Rent A Car (select Costa Rica, then the San Jose Airport location). Wherever you rent, be sure to check, and understand, every fee and detail on the rental contract before you sign it. Ask for an explanation, in English, of any detail that you don't understand. Check your car very carefully, note all damage, and be certain that all safety equipment works - lights, turn signals, seat belts, door and trunk locks, etc.
The cost of insurance varies widely from company to company, so pay close attention to that extra cost when you shop for your car rental. Liability insurance is required by law - no exceptions - and is not included in the advertised rates. It typically adds $20/day to the cost of your rental. Your credit card company may include collision damage insurance at no cost. Call in advance to ask if it covers you in Costa Rica. It may cost another $30/day to buy it from your rental car company, if they require it. If you don't buy it, you may be required to place a large deposit "on hold" for possible damage, using your credit card.
To save money, take a taxi to Casa Cielo from the airport ($20) and then rent a car one or two days later. That will save you one or two days' rental expense (minus the taxi fare).
Gasoline costs about $4/gallon (in 2018); diesel is 5% less. Costa Rica is the size of West Virginia, so you probably won't drive more than a few hundred miles a week.
Many of Costa Rica's best sights are accessible only by car, and the condition of most of Costa Rica's major roads is improving. But in small towns and "off the beaten path," many roads are potholed and narrow.
Rent an SUV that sits high off the ground. Big wheels add to your comfort and help to prevent flat tires that can be caused by large potholes.
Most roads and streets in Costa Rica have no names and no visible route numbers, and most businesses and residences have no numbered street address. Addresses read like this: "200 meters north of the police station, and 350 meters east of the Catholic Church." So a good map, a GPS - and a good sense of east, south, west, and north - are very helpful in Costa Rica.
You won't find many maps for sale outside of San Jose. So before you come, we suggest that you buy the Waterproof Travel Map of Costa Rica. With your $13 purchase they will also include a free PDF-format road atlas of Costa Rica. Their map and atlas both have far more detail than you will find anywhere else. The free atlas is not available in print, so you'll need a computer to study it, and possibly to print out a few key pages. If you buy the map through Amazon, you can download the atlas if you take the dashes out of your Amazon order number and use it here.
In addition to your printed map, we strongly recommend a GPS. It will save you time and frustration, and usually will help you to avoid getting lost. As in the USA, the GPS's are not 100% accurate, but they sure beat nothing. With few road names and numbers, you'll use landmarks instead of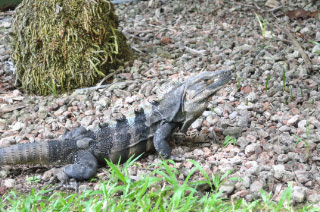 "Poas" to find the Poas Volcano National Park, or "Santa Barbara" to find Casa Cielo's home town, and check the fast food section of "restaurants" to find, yes, the nearest McDonalds, Taco Bell, KFC, or Quiznos.
If you need driving directions, ask a taxi driver. They know how to drive everywhere and many speak English.
Drive defensively! Most Costa Ricans are polite and friendly, but some drivers are aggressive. Motorcyclists squeeze between cars where there is literally just inches of clearance; be sure to watch for them.
Get a good map and a GPS, be careful, and enjoy Costa Rica's beautiful sights!
Rental Car Alternatives in Costa Rica
If you don't want to rent a car in Costa Rica, here are some alternatives that you can mix and match:
Kick back at Casa Cielo. Enjoy the pool and the walking trails, and read a few books. Walk to Santa Barbara for meals and groceries and anything else you need. You'll save at least $60/day on car rentals and gas. If you wish, we can suggest tours for you; tour companies provide your transportation, and a taxi will deliver you to the pickup point (usually near the SJO airport, $10 for a red taxi), and bring you home.
Fabian can suggest licensed private transportation for you, as needed. Your driver will supply a comfortable vehicle, he will speak your language, and he will take you exactly where you want to go, when you want to go there. This can cost $200-$300/day. If you stay somewhere overnight, you may also be required to cover the driver's discounted lodging cost.
Taxis (red) cost about $2/mile. Uber is available in some locations.
Buses are cheap, but they stop often, are relatively slow, and they don't have A/C - which matters when you visit hot, humid beaches at sea level. For $2 you can go to San Jose on a bus - vs. $25 by taxi. For $30 or less you can go anywhere in Costa Rica that buses go (without A/C), and that includes all but the tiniest towns. Can you imagine traveling from the Atlantic to the Pacific for $30 anywhere else? Semi-private vans ("turismos") with A/C can cost $50 or more to major tourist destinations.
Fly. Two airlines can take you anywhere they fly in Costa Rica in less than 60 minutes. Fares are $50-$150 each way: Nature Air and Sansa. You may find discounted fares online. They occasionally offer unlimited flying options.
Maps and Directions
We will provide specific driving directions (English and Spanish) to Casa Cielo after you book your stay, including precise GPS coordinates and a link to Casa Cielo for viewing on Google Earth. The blue pointer on the Google map below identifies the bus stop in downtown Santa Barbara, one mile from Casa Cielo. You can zoom in or out and re-center the map to see our location in more or less detail. Costa Rica's San Jose Airport (SJO, 25 minutes from Casa Cielo) is located in the lower left (sourhwest) portion of the map, in the town of Alajuela.
Casa Cielo is 10 degrees north of the equator, and 84 degrees west of the Royal Observatory at Greenwich in the UK - the international zero-longitude reference line or "Prime Meridian." If you've read this far, you probably know that Costa Rica is not an island. It's part of Central America, bounded both by the Atlantic (Caribbean) and Pacific Oceans - and by Nicaragua on its north and Panama on its south. It's possible to drive here from the USA, but impractical!
View
Santa Barbara de Heredia, Costa Rica
in a larger map
More About Costa Rica
For more information about tourism and sightseeing in Costa Rica, start with these websites: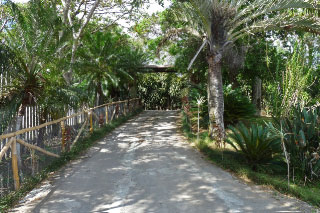 About This Casa Cielo Webpage
All text and photos, unless otherwise noted, are Copyright © 2012-2019 Brian Raub. All rights reserved.

Tierra Ladera LLC
Santa Barbara de Heredia, Costa Rica
---
Website Created by Brian Raub on May/21/2012; last updated Mar/03/2019.
---